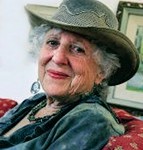 Santa Cruz CA-
Utility giant PG&E is threatening to turn off the power to Lois Robin, an 84 year old woman from Santa Cruz because she's refusing to pay "opt-out" fees for keeping an analog meter.
PG&E sent Lois a 15 day shut off notice in February, stating she owed $115. On Friday she received a message they will cut off her power today if she doesn't pay.
Lois writes, "I have always paid all my bills, except the opt-out fees. I insisted on keeping my old meter. They did not give me a new one. I have been on record all along as refusing a smart meter. I am 84 years old, with rapidly deteriorating vision. I would not want them to disconnect me as I get along poorly without light. Yet, I would rather they turned me off than pay their extractive fees."
PG&E claims they have legal authority granted by the California Public Utilities Commission (CPUC) to collect the fees. Emails between PG&E and the CPUC recently made public expose collusion, cover-up, multiple exparte violations and the broken regulatory process by which smart meter opt-out fees were concocted. Smart meter opt-out fees were fabricated between the CPUC and PG&E long before the evidentiary hearings on costs began.
For example, PG&E's Brian Cherry, Vice President of Regulatory Relations, emails Marzia Zafar, a CPUC Program and Project Supervisor, that PG&E wants to eliminate the initial smart meter opt out fee of $75. He writes,
"They never received a SmartMeter and therefore, we can't really charge them an upfront removal fee since we haven't removed anything yet."
Cherry goes on to explain that PG&E also did not feel people who were forced to have a smart meter should pay either, because of the delay list was created after the deployment. Emails show Zafar was the informant to the Commissioners. CPUC President Peevey had an intimate role in deciding the fees. The CPUC ignored PG&E's request to eliminate the initial fee.
http://emfsafetynetwork.org/wp-content/uploads/2015/03/Eliminate-initial-smart-meter-fee.pdf
In 2011, The County of Santa Cruz passed an ordinance banning smart meters, but PG&E deployed smart meters anyway. Lois Robin is one of many, who refuse to be coerced into paying the fees. Lois says, "This has been very stressful. PG&E doesn't listen to you. Talking to PG&E is like talking to automatons."