By: Kurt Nimmo
Redacted page from report on border shootings.
The Department of Homeland Security is attempting to stifle debate on its agents using deadly force against rock throwers on the border.
According to The Center for Investigative Reporting (CIR), a portion of a
report
issued by the agency's inspector general was redacted by DHS officials.
An official said the report produced by the Police Executive Research Forum, a Washington-based law enforcement think tank, was "redacted due to deliberative material."
The report recommends Customs and Border Protection "train agents to de-escalate these encounters by taking cover, moving out of range and/or using less lethal weapons. Agents should not place themselves in positions where they have no alternatives to using deadly force."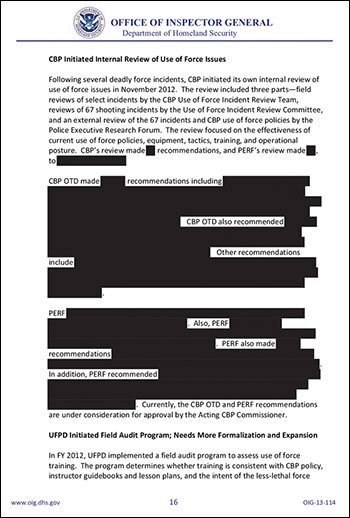 In 2012, a 16 year old Mexican national, José Antonio Elena Rodriguez, was shot eight times in the back and head at the border city of Nogales by Border Control agents. The
Mexican Foreign Relations Department
issued a statement stating it "forcefully condemned" the shooting and called deaths along the border "a serious bilateral problem."
"The censored report highlights how the Department of Homeland Security has attempted to mute the contentious debate surrounding the Border Patrol and Customs and Border Protection as a spate of agent-involved shootings has left more than 20 people dead since 2010,"
Andrew Becker and G. W. Schulz
write for the CIR.
In November Michael J. Fisher, chief of the U.S. Border Patrol, rejected the report's recommendations. "Just to say that you shouldn't shoot at rock-throwers or vehicles for us, in our environment, was very problematic and could potentially put Border Patrol agents in danger," he told the
Associated Press
.
Earlier this month R. Gil Kerlikowske, the nominee for Customs and Border Protection commissioner, told Sen. Robert Menendez, a New Jersey Democrat, and the Senate Finance Committee he would push for more transparency at the agency if he was confirmed.
"Transparency and … use of force in any law enforcement agency is critical," Kerlikowske said. "If you don't have the trust and the cooperation of the people you serve and they don't understand or they're not knowledgeable of your policies, it makes that trust and cooperation very difficult."
In September
Menendez complained
"there doesn't seem to be a unified policy on the use of force. Sometimes kids throw rocks over the border and border guards ignore it. Other times they shoot back. There's something wrong with that policy."